If you are an avid golfer, and like to travel, you can opt to combine your two passions by golfing in spectacular destinations around the world. Continental Europe in particular has seen an uptake in modern golf courses and international tourists, making it the perfect destination to relax and play your favorite sport.
That is why we have scoured high and low to find you the best upcoming and talked about golf destinations in Europe, so that you can begin planning the trip of a lifetime.
While some of the courses below are more prominent and popular, we have included a large array of undiscovered gems that will be the emerging stars on the pro circuit in the coming months.
Hidden Gems
Slovenia
This year, the International Association of Golf Tour Operators (IAGTO) awarded Slovenia with the prestigious Undiscovered Golf Destination of the Year award, at their gala event in Lake Como, Italy. With an abundance of regional golf courses in ideal locations, as well as a growing presence of Italian, Austrian, Scandinavian and German golfers, Slovenia is the place to be. Here are the top courses you should know about:
– Bled Golf Course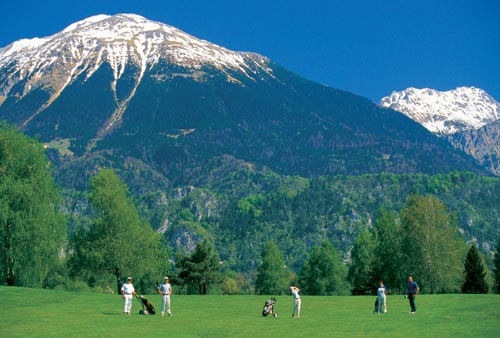 Bled golf course was built in 1938 shortly after the commencement of World War II as a golfing club for the then Yugoslav King, and today this sprawling 27-hole course is the pride of the country. You can choose to take up the challenge of either the 18-hole King's course or the 9-hole Lake course which have accommodated several professional and amateur tournaments over the years.
And the best part is that your golfing will take place against a stunning backdrop of the Slovenian Alps and the striking blue Alpine lake.
– Arboretum Golf Ljubljana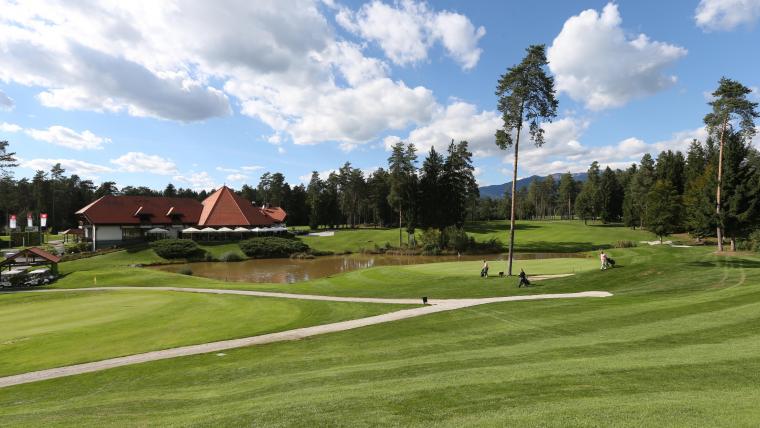 A stone's throw away from Kamnik lies Arboretum Golf Ljubljana, which is encompassed by small lakes and an extensive pine forest. This 18-hole Slovenian masterpiece is home to over 3500 plant species, making it a rich experience for all flora and golf lovers.
– Otocec Golf Course
If you head to the South of Slovenia you will come upon the quaint town of Otocec, which is situated upon the dark green Krka River. The Otocec Golf Course is perhaps one of the longest courses in Slovenia, as its 18-holes occupy over 6000 meters of land.
This modern course was designed by distinguished English golf architect Howard Swan and his Slovenian counterpart Peter Skofic, and it therefore surpasses the benchmark set by the golf industry. The course is a short walk away from the beautiful Otocec Castle which houses a hotel and restaurant where you can rest after a long golfing day.
Travel Information: When travelling to Ljubljana, Slovenia from America, you have the opportunity to take advantage of European connections on several low cost airlines. Slovenia's national carrier Adria Airways is linked to several major cities like Paris, Vienna, Frankfurt, Manchester, Moscow, Prague, Brussels, Zurich, Istanbul and Amsterdam. A 2-week return air ticket from Amsterdam to Ljubljana will set you back 250-400 Euros depending on when you go.
You also have the option of using easyjet from London or Paris, Wizzair from Brussels or London, Turkish Airlines, Air France, Montenegro Airlines, and Air Serbia. Traveling from London Stansted to Ljubljana on easyjet will cost you less than 70GBP.
Bulgaria
Bulgaria has not escaped the attention of the IAGTO, and in 2014 one of its own won the European Golf Resort of the Year, merely a year after the country won the Undiscovered Golf Destination award. Below we will look at the golfing marvel that needs to be on your schedule.
– Thracian Cliffs Golf Resort
The Thracian Cliffs is a must-play golf course that was opened in 2011, and is situated in a breathtaking seafront location that includes white beaches and a national park. The challenging 18-hole courses runs for 4.5Km on cliffs above the sea, and hosted the 2014 Volvo World Match play. The resort also includes international restaurants, ground sports facilities, water sports facilities, spa residences, and hillside and marina villages.
Other top golf courses in Bulgaria include Pirin Golf, Pravets Golf, St. Sofia, Lighthouse, and BlackSeaRama.
Travel Information: When traveling to Sofia, Bulgaria, you can travel from London Gatwick via easyjet for 90GBP. Bulgaria Air also offers roundtrip tickets to Chicago, Miami and New York with connecting flights in Dubai and Berlin, for a cost of between 540-700Euros. Lufthansa USA also offers flights from New York, LA, Atlanta, and Boston to Bulgaria, with prices starting from $400 for a one-way ticket.
Czech Republic
Nearly 8 years ago, IAGTO named the Czech Republic as the Undiscovered Golf Destination of the Year. Today the country has undergone a golfing revolution with over 80 top golf courses and 131 golf resorts awaiting your arrival. Here are some top tier courses in the country:
– Albatross Golf Resort
This new and modern resort was opened less than 6 years ago, and is complemented by a clubhouse, shops, training facilities, and golf services that would impress any golfer. Extending over 80 hectares of land, this 18-hole course which is only 20 minutes from Prague will steal your heart.
– Berovice Golf Course
Berovice is a golf resort which can be found in the surroundings of the famous Rip Mountain, with 18-holes that will test the abilities of golfers of all skill levels. The course is made up of expansive greens, small lakes, and numerous bunkers (on fairways and near putting greens), and also boasts of a training academy and equipment for novice players.
Other famous Czech golf courses, parks and resorts include Pilsen, Karlstejn, Beroun, Prague City, Black Bridge, Kuneticka Hora, Karlovy Vary, Astoria Golf Resort Cihelny, and Royal Golf Club Marienbad.
Travel Information: Traveling to Prague is simple and can occur from any major airport in Europe, with easyjet offering tickets as low as 40GBP from Italian airports and 60-70GBP from UK airports. There are also other air carriers like Emirates, British Airways, Turkish Airways, Air France, Swiss Flights, Brussels Airlines, Alitalia, SmartWings, Aeroflot, and Lufthansa that offer indirect flights. For a direct flight look at Delta, jetBlue, and KLM (for less than $1000).
Turkey
Turkey has become a top golfing destination in Europe, with a dramatic increase in modern courses set in breathtaking locations. With the year-round warm Turkish weather and the friendly locals, it is no surprise that the country is attracting some of the world's most avid golfers. Here is the top Turkish golf course that you should know about:
– Tat Golf Belek International
IAGTO awarded Belek as European Destination of the Year in 2008, and it is no surprise why. This well designed 27-hole resort is made up of 3 loops of 9, with 18 holes of Parkland and 9 holes of Links. When you input the various dunes, rivers, lakes and trees peppering the course, you have a golfing destination that will challenge the best golfers.
Other courses in Turkey include Lykia Links, Antalya, Gloria, Kaya Eagles, Nobilis, Papillon, Kema, and Cornelia Glof Resort Nike Faldo Championship Golf Course.
Travel Information: When traveling to Turkey, your best option is to use Turkish Airlines, Asiana Airlines, Delta, United, British Airways, Lufthansa, Alitalia, Air Berlin, Swiss International Air Lines, and Condor Flugdienst. Transaero also offers cheap flights from New York and LA to Istanbul for $520 and $780 respectively.
New Golf Course Opening in 2015
Now that you have a list of the best hidden gem golf courses in Europe, here is an exclusive look into the newest European golf course that is set to open this year.
Grand Saint-Emillionais, France
France is home to Europe's best golf course, and this new Tom Doak's course in the heart of the Bordeaux vineyards seeks to rival Morfontaine. St. Emillion which is set to open in 2015 is set in a rolling valley, and is peppered with vines and centenary oaks.
Final Verdict
Now that you are armed with all of the information above, you can begin your packing as you head out on the golfing trip of a lifetime. Trust me, the courses above will not disappoint you- they are the best emerging courses the continent has to offer.